Learn More About latam Air Cargo Company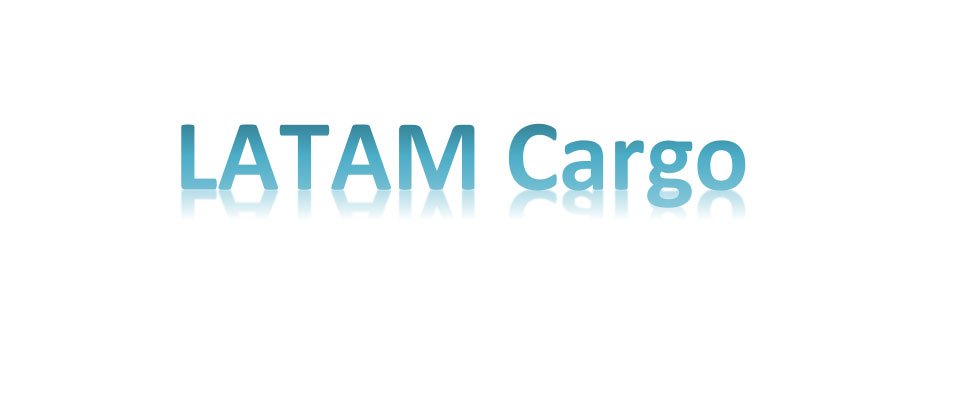 LATAM Cargo is the air freight brand of LATAM Airlines Group, South America. It was established on 5th April, 2016 where the entity represents the cargo operations of LAN Cargo, a cargo airline with its main bases at Miami International Airport and Santiago International Airport, Chile (LATAM Cargo Chile), TAM Cargo (LATAM Airlines Brazil), LAN Cargo Colombia (LATAM Cargo Colombia) and MasAir (LATAM Cargo Mexico). The air freight brand is part of the identity consolidation process by the LATAM Airline Group. LATAM Cargo remain the largest cargo airline group in South America, providing air cargo services to over 140 destinations in 29 countries.
LATAM Cargo offers you three services that vary on levels of need. These services provide solutions for a range of needs, from the most urgent shipments to the most flexible ones. These services includes,
Express services: It offers premium solution for critical and urgent shipments in live animals, pharmaceuticals, postal, hazmat, basic and perishable goods. It guarantees timely deliver, flexible routing and visibility through e-Tracking tools.
Standard express: This offers convenient and reliable solution available in oversize loads, protected cargo, postal, courier, hazmat, basic and perishable goods. Unlike Express, standard service is available in over 135 destinations cutting across 24 countries around the globe. The third service offered by LATAM Cargo is,
Flex service: It is a low cost and reliable solution for shipments that requires delivery at a specific timeframe. It is available for only basic, hazmat and perishable goods and could also be tracked through the e-Tracking tools on their official website on www.latamcargo.com/en.
LATAM Cargo headquarter is located in at Ricso 5411, 20th floor, Las Condes, Santiago, Chile while other offices spread across US, Brazil, China, Mexico et.c. LATAM Cargo has two offices in China. These include,
Beijing
Phone: +86 10 6708 0248
Room 801, A Tower New World Centre Office, P. O. Box 100062, No 3, ChongWenMen Wai Street, Dong Cheng District, Beijing, China, and
Shanghai
Phone: +86 21 6835 6815
Room 1413, No 885, Renmin road, Huangpu District, Shanghai city, China.
Each of the merger cargo ply different destinations where LATAM Cargo Chile operates in the following countries and destinations
Germany; Frankfurt - Frankfurt Airport
Netherlands; Amsterdam - Amsterdam Schiphol Airport
France; Mulhouse - EuroAirport Basel–Mulhouse–Freiburg
Uruguay; Montevideo - Carrasco International Airport
Venezuela; Caracas - Simon Bolivar International Airport
Valencia - Arturo Michelena International Airport
Costa Rica; San Jose - Juan Santamaria International Airport
Guatemala; Guatemala - La Aurora International Airport
United States; Boston - Logan International Airport
Los Angeles - Los Angeles International Airport
Miami - Miami International Airport
Ecuador; Guayaquil - José Joaquín de Olmedo International Airport
Quito - Mariscal Sucre International Airport
Argentina; Buenos Aires - Ministro Pistarini International Airport
Tucumán - Teniente Benjamín Matienzo International Airport
Brazil; Belo Horizonte - Tancredo Neves International Airport
Campinas - Viracopos-Campinas International Airport
Curitiba - Afonso Pena International Airport
Manaus - Eduardo Gomes International Airport
Porto Alegre - Salgado Filho International Airport
Rio de Janeiro - Galeão-Antonio Carlos Jobim International Airport Vitória - Eurico de Aguiar Salles Airport
Paraguay; Asunción - Silvio Pettirossi International Airport
Chile; Santiago - Comodoro Arturo Merino Benítez International Airport
Colombia; Bogota - El Dorado International Airport
Medellin - José María Córdova International Airport
Peru; Lima - Jorge Chávez International Airport