Home >>Shipping From China> Sea Freight From China To Bangladesh
Sea Freight From China To Bangladesh
Bangladesh a country of over 169 million people, is the eighth most populated country. It shares borders with Myanmar and India also it has a large body of water which is serves as international shipping trade route called Bay of Bengal. It also houses the longest natural beach in the world without discontinuity, this serves as a tourist attraction thereby creating an economy that depends on importation and that is where we fit into the equation by providing freight services from China to Bangladesh.
With a total of 3 sea ports and 22 river ports, the largest port in Bangladesh is located in its second largest city of Chittagong and the second largest is in Mongla. Considering the population, the economy largely depends on imported petroleum products, foodstuffs and processed food, cement, textile fabric and clothes, machinery and automobiles, and other products to key to the development of a nation. We therefore provide freight services from China to Bangladesh majoring on the above products.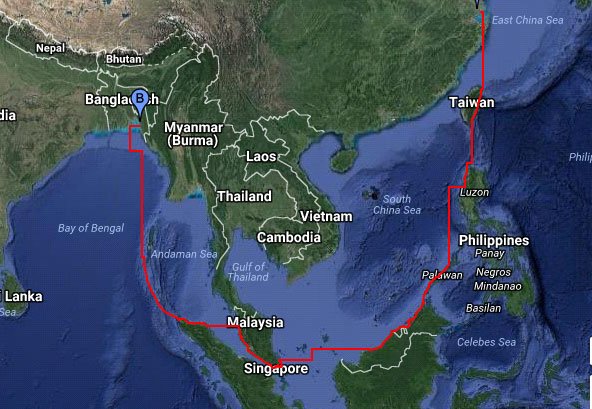 Shipping route from China to Bangladesh
Products from the ports in Shanghai and Mawei leave Chinese waters to the port of Chittagong. Their route follows the East China Sea to the South China Sea and they arrive at Chittagong, Bangladesh through the Bay of Bengal. It takes approximately 18-24 days to arrive Bangladesh from China. The standard freight carry sizes are 20ft, 40ft, and 40 cube high containers and these containers are loaded as Full Container Loading (FCL) while other cargo loading are considered as Shared Container Loading (LCL).
Duties and taxes are charged on international shipping services from China to Bangladesh. The unique 10-digit code on your product serves as a tracking number and also helps to calculate the tax to be paid on each product. Once this is done your goods can be delivered to your destination. In the interim we offer storage services in China for the goods before shipping and we also offer express delivery services. With the knowledge that clearing a consignment at the port can be cumbersome, we do offer such services too.
International logistics services are incomplete without incoterms which are the basis for international trade transactions. They make up the business contract. When shipping from China to Bangladesh, a default by the client or the seller in price settling can result to losses on a large scale because in the price of shipping goods is most times almost equal or more than the cost of the product. The common terms of sales used by us in international shipping trade are F.O.B, C&F, C.I.F and Ex – Ship for more info on these incoterms. However, other incoterms exist and we are more than willing to use whichever you prefer as long as the risks are reduced to the barest minimum.
In conclusion, if you want our rates for the different cargo categories; the LCL sea freight and the FCL sea freight kindly contact us, our sales will provide competitive sea freight from China to Bangladesh to you.