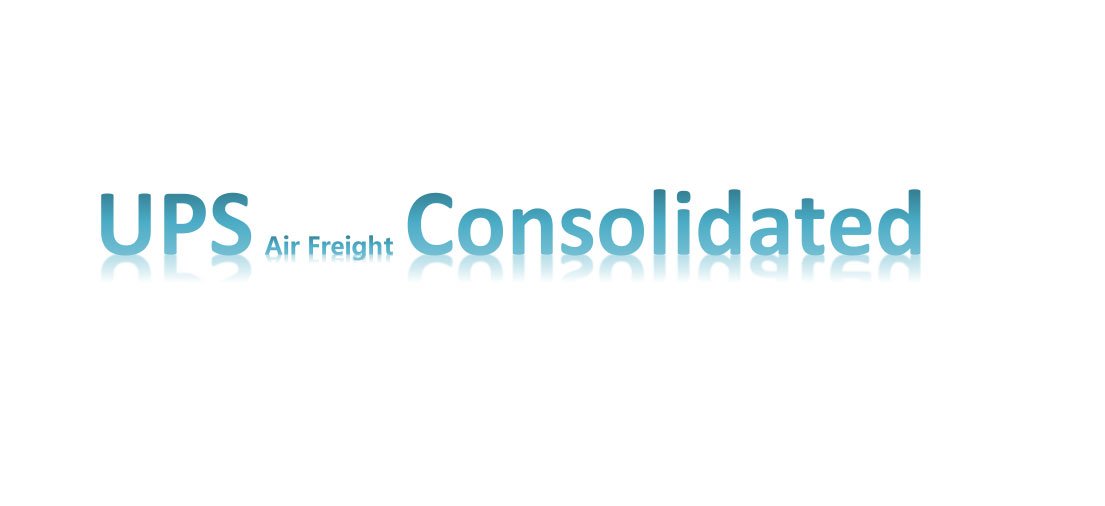 Home >> Consolidated Shipment >> UPS AIR FREIGHT CONSOLIDATED SERVICES IN CHINA
UPS AIR FREIGHT CONSOLIDATED SERVICES IN CHINA
Generally, when you are trying to ship cargo from china to other countries of the globe, there are two important factors that should be taken into account; time of transit and cost of transportation. These two factors make air freight transportation the most advantageous means of logistics when certain categories of shipments are considered. When it comes to shipping, paying less often means slower shipping and the reverse is the case for packages with faster delivery times. If you plan to ship goods from china to any country worldwide, the UPS consolidated services provides you with a solid means of cargo transport world-wide.
Aside from being the world's leading company in worldwide package delivery, UPS is a provider of both supply chain management solutions and consolidated services in cargo movement. These consolidated services are specifically designed to be cost effective, and efficient for load sizes and shipments that do not fill up an entire cargo. It is a commonly adapted means of transportation by ecommerce companies and even factories that may require that their desired items reach their destinations within a designated and usually short period of time. These UPS air freight consolidated services are non-passenger airlines that are classified as cargo airlines and are designated for the sole purpose of consolidated freight services. Unlike passenger carrying cargo planes, the UPS freight services has the advantage of quick booking which greatly reduces wait time and allows you to set specific times of arrival for all of your packages.
When trying to use the UPS air freight consolidated services, one may consider the processes involved in resolving all of the logistics, from the paperwork, to the handling of the actual cargo, to the regulations around international trade. A freight forwarder is a firm that provides this service for you; they specialize in the storage arrangement and holding of cargo until shipment date. Most freight forwarders may even provide a full range of service when it comes to consolidated logistics. These includes; tracking, warehousing, negotiating freight charges and filing insurance claims. Simply put, they are companies that handle the transportation of your cargo to the desired destinations.
However, these firms or companies do not move the cargo by themselves; they only act as intermediaries between the shipper and the transportation services. It then becomes important to determine whether to use the UPS airfreight consolidated services directly or to utilize the services of these freight forwarders before using UPS. Ultimately, these freight forwarding companies have pre-established relationships and connections with the carriers and air freighters and are in the best positions to negotiate the best prices and even agree on the safest and most economical routes by finding a balance between reliability and cost.
If you choose to go without the use of a forwarder, the processes involved from the point of pick up to the arrival could be extremely burdensome and could result in some complications if not done correctly. Therefore, it is best to use a local global freight forwarder as an intermediary for the transportation of your package through UPS.