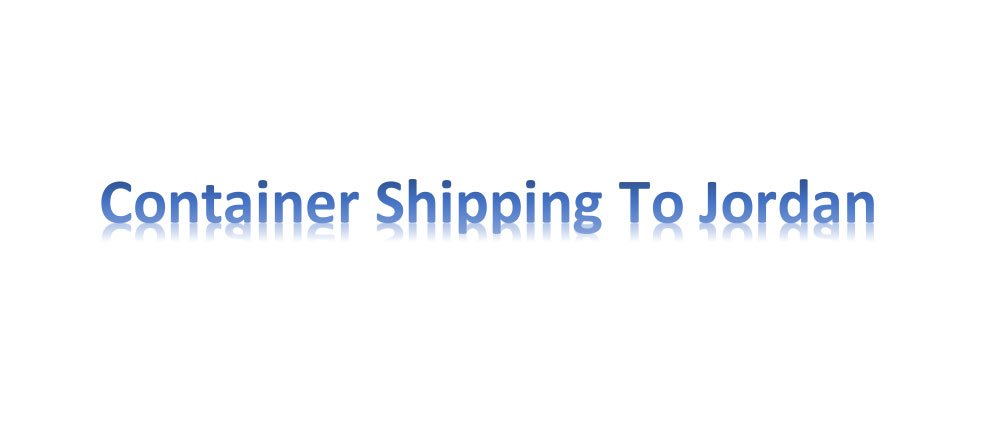 Home >>Shipping From China >> Sea Freight Shipping from China To Jordan
Sea Freight Shipping from China To Jordan
Managing shipping between China and Jordan (المملكة الأردنّيّة الهاشميّة) with the help of freight forwarders has become a priority of many people. We are a company that provides professional and perfect international logistics service and also deal with a wide ranges of freight forwarding services. In order to meet your cardo shipping needs regarding Jordan, we have organized a vast network that holds the capability of accommodating economical, affordable, and reliable logistic plans. Our high quality services are not only limited to import and shipping from China to Jordan but also extends to pick up, documentation, packaging, loading, unloading, customer clearance, warehousing, consolidating and many more.
We cover all the major ports of China ranging from Shenzhen, Tianjin, Dalian, Shanghai, Guangzhou, Hong Kong, Xiamen, Hangzhou to Ningbo, and many more. Our long list of satisfied clients stand to benefit from this alliance as it greatly helps in facilitating the import process. We efficiently manage all the transport process to ensure that the whole import is streamlined for our clients. Right from the process of pickup of goods to packaging, to inventory details to documentation and custom clearance to loading and unloading of your cargo, we are a one stop service to facilitate all the import of items shipping from China to Jordan.
We always put our best efforts to serve you with our authentic, reliable and long-lasting shipping services with our worldwide network. Because of our impeccable record and wide experience in the shipping industry, we are widely recognized as the China's leading Freight service provider. We always serve the needs of our customers in the best way possible by keeping in view and assisting the whole process of shipment so that all the services and deals would occur in a transparent environment. We believe in facilitating our clients with our quick and efficient shipping whether they go for FCL, LCL, or other such services regarding ocean freight.
We are highly successful in maintaining a healthy and strong relationship with international cargo carriers so that our customers can enjoy the most competitive and affordable rates while obtaining our services for shipping from China to anywhere. Our company takes into account all the important factors that a customer cares about and serves its customers with the best shipping services. Whenever you intend deliver your items shipping from China to Jordan, we are here to provide you the best, affordable, efficient and trustworthy services so that you would not have to deal with any kind of inconvenience or fraud while delivering your cargo. We keep you updated about all the terms and regulations at the first place to ensure a quick and transparent service.
We manage all the schedule such as Shanghai to Aqaba by PIL shipping lines as well as supervise and coordinate the shipment of goods in an efficient way so that your containers can be delivered on time shipping from China to Jordan. If you are a client of Goodhope Freight, we can aid you in finding realistic solutions to business necessities and can help you in using your time accurately which in return upsurge the chances of success. Welcome Aqaba freight forwarder contact and work together with us.